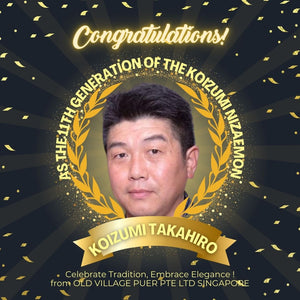 FOR IMMEDIATE RELEASEKoizumi Nizaemon Announces Transition to 11th Generation LeadershipSINGAPORE, 27 November 2023 – Koizumi Nizaemon, a distinguished name synonymous with the artistry of Nanbu Tetsubin, proudly announces a momentous transition as Koizumi Takahiro assumes the esteemed title of the 11th generation of Koizumi Nizaemon. This succession marks a new chapter in the legacy of craftsmanship and tradition that has defined the Koizumi family for generations.Congratulations to Koizumi Takahiro:As the Worldwide Sole agent (except Japan and China) of Koizumi Nizaemon, Old Village PuEr Pte Ltd (OVP Tea) extends heartfelt congratulations to Koizumi Takahiro for assuming the mantle as the 11th...
---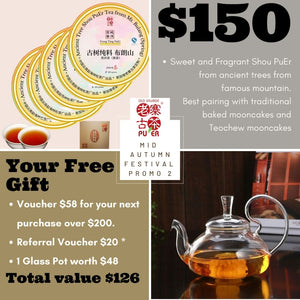 Elevate Your Mid Autumn Festival Celebration with OVP Tea's Exclusive Mt. Bulang Shou PuEr Tea BundleSINGAPORE, 14 Sept 2023 – As the Mid Autumn Festival draws near, OVP Tea is thrilled to introduce a truly exceptional tea experience to brighten your festivities. Presenting the Mt. Bulang Shou PuEr Tea Bundle, a celebration of tradition and flavor that will elevate your tea moments.Mt. Bulang Shou PuEr Tea Bundle Highlights:Mt. Bulang Shou PuEr Teacakes: Immerse yourself in the world of premium tea with five exquisite 100g each Mt. Bulang Shou PuEr teacakes. These handcrafted tea treasures are a tea lover's delight, offered...
---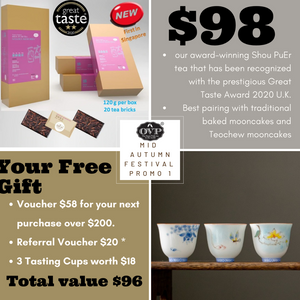 Celebrate Mid Autumn Festival with OVP Tea's Golden memories Bundle! 🍵 Promo-1:  As the radiant glow of the full moon graces our skies, we step into the enchanting realm of the Mid Autumn Festival. At OVP Tea, we believe in crafting traditions, and this year, we've brewed something truly magical for you, your cherished friends, and beloved family members. Welcome to our world of exquisite teas with the Golden Melody Tea Bundle!🌟 Golden memories Tea Bundle: An Ode to Tradition 🌟✨ Golden memories Tea: Picture yourself savoring a cup of tranquility, as you're transported to a serene Chinese garden under a...
---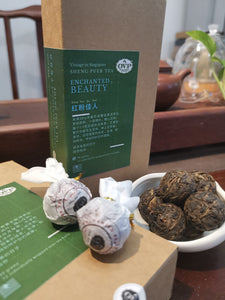 Indulge in the essence of luxury and wellness with our exclusive Sheng PuEr tea from Mountain BingDao! This National Day, we have a spectacular offer that will elevate your tea experience to new heights. 🍃🍵 Buy 2 Boxes for ONLY SGD 58 and Get a FREE Borosilicate Glass Filter Cup! 🍃🍵Savor the mint-like sweetness and thick tea liquor of our premium 2018 vintage Sheng PuEr tea, thoughtfully crafted into mini dragon pearls. Each pearl embodies the mastery of tea-making and the rich heritage of PuEr tea. But that's not all! We want to make your tea moments even more special....
---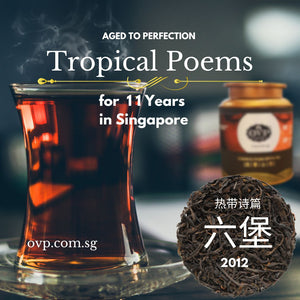 Aged to Perfection for 11 Years, Sourced from Authentic Tea Origin in China, and Packaged in a Sleek Tin   At OVP, we are always on the lookout for the finest Chinese teas to offer our customers. Today, we are proud to announce the launch of our latest addition to the collection, the 2012 vintage Liupao tea - Tropical Poems. Sourced from the authentic tea origin in China, this tea has been carefully handpicked and meticulously processed, and kept in tropical Singapore for 11 years to bring out its rich and vintage taste. The tea leaves have aged to perfection,...